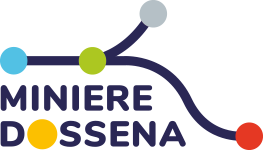 The subsoil world of Dossena
Immerse yourself in the bowels of the earth, visit the only speleological park in Europe
In Dossena, in the core of the Brembana Valley, you can find the only Speleological Park in Europe. A safely equipped route to experience in cultural and playful terms. Explore the ancient galleries of the mines of Dossena through cableways, bridges, suspended passages over natural caves, artificial chimneys and much more. Experience the feelings felt by the miners who used to work day and night with the light of the lamps, extracting the valuable resources of the subsoil.
A safe guided tour
You will take on the route in total safety, with a harness and a helmet that the organisation will give you. You will have the opportunity to get a closer look at the ancient working tools, accompanied by a guide who will tell you about the origin and the history of the mines, the minerals present and the extraction techniques, following you step by step throughout the journey. An unforgettable adventure to discover the history and beauty of our mines!
Accessible even in bad weather. Remember to wear sporty, warm clothing and appropriate footwear.

DISCOVER THE ONLY SPELEOLOGICAL PARK IN EUROPE
Experience the charm of the subsoil