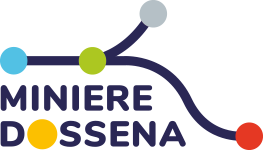 ONE OF THE MOST ANCIENT MINES IN LOMBARDIA
The hidden treasures of Dossena
Visiting the Mines in Dossena, in the core of the Brembana Valley, is like living a real adventure in the past. Covering the galleries with the helmet on your head and a flashlight in your hand, you can't help but imagine the miners who used to work here for days, without ever seeing the sunlight.
The itinerary goes through natural caves and artificial galleries, following the ancient rails of the mine carriages, which were used to carry the materials, tunnels dug in the rock, ventilation chimneys, rusty carriages, a small underground lake that disappears from sight swallowed by the abyss.
A guided tour in safety
You will take on the itineraries in total safety thanks to the equipment provided by the organisation. You will have the opportunity to have a closer look at the ancient working tools, with the help of a guide who will narrate the origins and history of the mines, the minerals present and the extraction techniques, following you step by step throughout the journey. An unforgettable adventure to discover the history and beauty of our mines!
Accessible even in bad weather. Remember to wear warm clothing and appropriate footwear.
THE KINGDOM OF THE MINERS OF DOSSENA
Discover the history and the beauty of our mines
The Museum of the Mines of Dossena
The museum part of the Dossena mines is located in the external buildings, which were restored in 2020 thanks to a ministerial project.
In the hall of the current reception point, there were changing rooms and a small canteen. The adjoining room (now the multimedia room) housed the mining office with the cartographic archive, while the central room (the current exhibition room) housed the materials and equipment.
The workshop room, equipped with a forge, and the compressor room are now museum and memorial spaces.
A second building housed the electrical cabin and the room for the battery locomotive, which was used to pull the wagons up to the cable car station.
Also accessible in case of bad weather.
THE MUSEUM OF INDUSTRIAL ARCHAEOLOGY IN DOSSENA
Machines, equipment, everyday life